Move Over Tokyo and Osaka – Fukuoka is The Place to Be!
For many, moving to Japan means moving to Tokyo, which is arguably the most well-known city in Japan. However, Tokyo has a very specific lifestyle that might not be suitable for everyone. 
Sure, if you enjoy the modern, big city life and are willing to put up with the chaos that comes with it, Tokyo is great, but what if I told you that you don't have to compromise? 
What if there was another city that has everything a metropolis like Tokyo has to offer right at your fingertips without the hassle of commuting or having to live in tiny spaces? 
Meet Fukuoka — it's the place to be.
Fukuoka is a hidden gem that often goes unnoticed, especially compared to cities like Tokyo or Osaka. However, Fukuoka is a city with great growth potential, and it has a lot to offer, almost as much as Tokyo, dare I say. 
With its brilliant art scene and culture of innovation, Fukuoka is actually one of the best cities in Japan to live in. This is why today, I'm here to tell you all about what Fukuoka has to offer and why living here is one of the best choices you can make, especially if you're an engineer.
Let's start with a brief overview of the city before we get to what living in Fukuoka is actually like.
Why Fukuoka Is a Great Place to Live
Even though it's not the biggest city in Japan, Fukuoka is by no means a "small town." The city has a population of over 1.5 million people, and it's the largest city on Kyushu island, one of the five main islands that make up Japan.
Located in the southwestern region of Japan, Fukuoka is also the capital of Fukuoka Prefecture, and it offers the perfect blend of modern city life and traditional Japanese living. 
Fukuoka has the best of both worlds, as the city brings together large, modern shopping malls and ancient temples. It's also home to beautiful, sandy beaches that stretch across miles. 
In addition to the beautiful nature, another thing that makes Fukuoka a desirable city to live in is the mild climate. The summers are hot and provide plenty of opportunities to enjoy the beaches that are accessible even in the city center, while it almost never snows during winter. 
If all this piques your interest, wait until you hear about the cost of living in Fukuoka.
Cost of Living in Fukuoka, Japan
Japan is known as an expensive destination, but that's only because most people think of Tokyo specifically when they hear "Japan." I talked about the real cost of living in Tokyo in another post, in case you're curious. 
Fukuoka, on the other hand, is as affordable as a big city gets.
This is mainly because Fukuoka is — among many things — also a college city. Lots of students inhabit the city, and this means that the cost of living is much cheaper compared to other big cities. 
Not only are the rent prices lower, but a simple trip to the grocery store doesn't cost you an arm and a leg. Public transportation is cheap enough that you might not even consider buying a car.
When I say that the rent prices are lower, I really mean it. According to Numbeo's stats, the rent of a standard apartment in Tokyo can cost up to 137% more than it does in Fukuoka, and you'll also pay less for utilities.
According to the same stats, even grocery shopping costs 14% more in Tokyo. All of this means that you can actually save a pretty penny living here, but that's not the only thing that makes Fukuoka a great place to live. 
Fukuoka: Japan's Most Innovative 
While Fukuoka is a great city to live in for anyone, as I mentioned, the innovative culture the city breeds makes Fukuoka a great place to be for engineers specifically. Essentially, Fukuoka can best be described as Japan's version of Silicon Valley.
Fukuoka is a city of innovation, and this isn't by coincidence but by thoroughly planned efforts and initiatives, which I'll explain in a bit. In addition to the abundance of resources the city has to offer, this culture of inventive creativity is boosted by the support of the local government.
Indeed, the key driver behind Fukuoka's success is the city's mayor Sōichirō Takashima, who is dead-set on making Fukuoka a place where startups can thrive ever since he was elected into office back in 2010.
Fukuoka's Vibrant Startup Scene
Thanks to mayor Takashima's efforts, Fukuoka has quite literally become Japan's startup city. Today, with a range of supportive policies and initiatives in place, Takashima's resilient attempts at growing the city of Fukuoka attract talented minds and innovative entrepreneurs from not just all over Japan but all over the world.
Perhaps, one of the most prominent initiatives of the Mayor of Fukuoka is Fukuoka Growth Next, or FGN for short. FGN is an all-in-one source for entrepreneurs to grow their businesses in the most time-efficient and cost-efficient way possible. 
Another initiative by the city of Fukuoka is the Fukuoka City Startup Center. As the name suggests, it's a center for startups that provides promising businesses with the resources they need to grow and join the expanding list of Japan's unicorns, a term used for startups that reach 1 billion USD in value.
Currently, there are over 100 startups in Fukuoka's ecosystem, and new ones are frequently joining. If you want to find out more about Japan's startups, I also talked about the startup scene in Japan extensively.
Fukuoka's Smart City Initiatives
For the city of Fukuoka, innovation isn't just about promoting better businesses and supporting startups but also about experimenting with new technology to make living in Fukuoka easier and smarter.
The city has a number of smart city initiatives and is also currently experimenting with building a smart city in its urban areas. A large area of 124 acres where a university campus used to be located is currently being used as Fukuoka's smart city prototype with the help of Internet of Things applications and deep data analysis.
While these types of initiatives aren't unheard of, what sets Fukuoka's smart city apart is the fact that the pilot zone is located right in the city center. Additionally, while most smart city projects are built upon an already existing infrastructure, Fukuoka's smart city is being built from the ground up.
This not only gives the city endless freedom but also allows the government to test the implementation of new technologies, such as self-driving public transportation vehicles, safely. 
In addition to all of this, the city of Fukuoka also introduced a healthcare platform that allows citizens easy access to the public healthcare system, which keeps all of their health-related data in one place for convenience. The city also has a smart parking system that directs drivers to vacant parking spaces and assists them as they park their vehicles.
Sustainable Urbanism in Fukuoka
In addition to its startup growth programs and smart city initiatives, Fukuoka also made advancements toward sustainable urbanism. 
Fukuoka is a city that cares about the environment deeply, and this interest doesn't just stem from a trend but a lifelong fascination towards living with as small of a carbon footprint as possible. 
In fact, the local government has made advancements toward sustainable urban growth as early as the 1980s. The city's municipal climate change plan dates all the way back to 1994, which was way before the signing of the famous Kyoto Protocol, an international treaty regarding the reduction of greenhouse gas emissions.
The city is also deeply involved with microclimate control and even has a landmark building to show for it. The beautiful ACROS (Asian Crossroads Over the Sea) is a building that incorporates greenery into its structure, and it was designed to reduce the heat islands that formed in the population-dense areas of Fukuoka.
Of course, Fukuoka's activities toward sustainability don't end there. The city also has a number of other initiatives for waste management and water treatment, and the local government also supports sustainable tourism, which is a form of tourism that aims to reduce the environmental impact of tourism-related activities.
Fukuoka Promotes Diversity
Japan has a strong culture of respect and politeness where everyone pretty much keeps to themselves, but this also results in a closed society where you may not always feel like you're welcome. 
As a foreigner living in Japan, this is why it's especially important to be in a place where you can feel like you're actually a part of daily life and not just a forever tourist. Another great thing about living in Fukuoka is just that. You can actually feel like a native thanks to the city's initiatives towards inclusivity and diversity.
The city promotes openness and inclusivity via practical initiatives that make immigrants, women, and members of the LGBTQ+ community welcome as well. Since the city is an international hub for startups, it attracts people from all nationalities, genders, and sexual orientations, which Fukuoka fully and openly embraces. 
In addition to this well-established culture of inclusivity, the city also has a dedicated consultation center for its foreign residents, ensuring that each and every foreign resident feels right at home in Fukuoka City.
City Living and Nature, All in One Place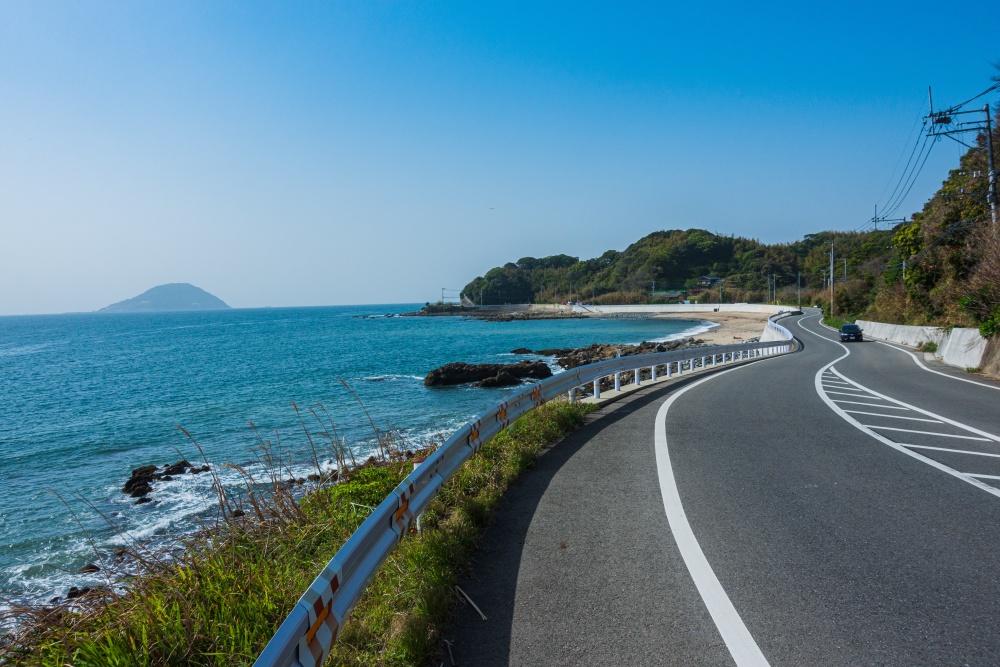 Another perk of living in Fukuoka is having everything a big city life offers right at your fingertips — an extensive public transport network that incorporates subways and buses, a vibrant nightlife bustling with good music, and a number of shopping districts that have everything you can want for. 
However, having all of this doesn't have to mean that you should be separated from nature. Thanks to the environment-centric approach of the local government, in Fukuoka, you can have both without having to compromise.
In addition to its urban offerings, the city of Fukuoka also has quite a number of parks and nature attractions. Parks like Ohori or the Momochi Seaside Park will not only quench your thirst for nature but will leave you wanting more. 
However, this is never an issue in Fukuoka, as the city boasts beaches as far as the eye can see. In fact, you can go swimming at the beach, take a walk by the river, or go hiking in the mountains, which are all within biking distance. 
Perfect for Quick Getaways Too
As I mentioned, Fukuoka has access to both a metropolitan city and beautiful nature. However, that's not all you get access to when you move to Fukuoka.
Thanks to the city's geographical location, Fukuoka is also a great place to travel to other cities in Japan or even overseas. You can easily plan a day trip to cities like Nagasaki or Yanagawa from Fukuoka, but why limit yourself to Japan only? 
If you want to experience what Southeast Asia has to offer, you can simply take a short plane trip to places like Taiwan or South Korea. In fact, you can get to South Korea by taking a 30-minute plane ride and enjoy the good food and even better culture the country has to offer.
Enjoy Short Commute Times
If you've ever lived in a big city, you're probably familiar with the hassle of commuting every day for long periods. Sure, having everything you can need 24/7 is a nice perk, but it shouldn't cost you your mental health, which is a price that's a bit too steep.
If you agree, then living in Fukuoka might just be the place for you. Thanks to the compact nature of Fukuoka, everything's pretty much within 30 minutes away. This saves you a lot of time to spend on yourself and your well-being. 
If you're living in the city center, you'll find that you can get to most places by simply biking or even walking. As you can imagine, this doesn't just save time but money as well.
Compared to the standard one-hour commute times in Tokyo, the 30-minute average commute time in Fukuoka is bound to do you good, and you can actually live in the city center rather than living outside the city as most people do in Tokyo.
The Food in Fukuoka Is Unmatched
Another great reason to drop everything and move to Fukuoka is the unmatched food the city has to offer.
If you want to enjoy the very best that Japanese cuisine has to offer, Fukuoka is the place to be. Sure, Japan has a great culinary culture, and you're bound to stumble upon delicious food wherever you go, but Fukuoka takes things to the next level.
Especially if you're a ramen enthusiast like me and the mere thought of tonkotsu ramen is enough to make your mouth water, I've got great news for you. Fukuoka is famous for its ramen, which is called Hakata Ramen there, and it's as yummy as ramen gets.
However, ramen isn't the only thing Fukuoka is known for. Karashi mentaiko, which is a red-pepper marinated spicy pollock roe, is another local gem that's absolutely delicious.
If you're into street food, on the other hand, you can also find plenty of street food stalls scattered across the city's parks and the seaside. Don't get tricked by the looks of these tiny stalls because the food they serve packs quite the punch and can get you instantly hooked.
Lastly, Fukuoka is also known for its delicious seafood. Due to it being a port city, you can always count on Fukuoka restaurants to have the freshest seafood available.
Living Large in Japan, Literally
As a foreigner living or considering living in Japan, I'm sure you're familiar with how tiny living spaces can get in Japan. 
Especially in cities like Tokyo or Osaka, the square footage of some apartments might make you think that you're renting a room instead of a whole apartment. Luckily, this isn't the case in Fukuoka at all. 
The city's population is around 1.6 million, which is a tiny fraction of Tokyo's total population. This means that you can live in much bigger places while paying cheaper rent.
This doesn't just mean having a big space for yourself, of course. Another perk of living in a not-so-crowded city is having the beautiful parks, beaches, and temples of Fukuoka all to yourself. 
In general, you'll come across way fewer people when you're out and about in Fukuoka compared to Tokyo, and this makes experiencing the city or going about your daily life much more enjoyable.
Of course, fewer people also means less crowded buses and trains. Feeling like you're the main character of your life is much easier when you're sitting peacefully on a train and looking out the window rather than squeezing yourself into a crowd of unhappy people in business suits.
Dance, Karaoke, and Party in Fukuoka
In addition to being a city of innovation and technology, Fukuoka also boasts a vibrant nightlife. If you're into dancing, the city offers a wide variety of clubs where you can dance the night away. If you want to drink with your friends, you can always find a good bar around Tenjin or Ningyo Shoji.
Fukuoka is no short of izakayas (Japanese pubs that serve food and alcohol), either. If you want to grab a bite and drink at the same time, these small, cozy Japanese establishments will quickly become your favorite place.
Karaoke also plays a big part in Japan's entertainment and nightlife culture, and finding a good karaoke bar is never an issue in Fukuoka, as the city has some of the best karaoke in Japan. 
If you're the shy type, many bars in the Nakasu district offer private rooms as well so that you can enjoy a more intimate singing experience with your friends. 
No matter if you're a pro karaoke enthusiast or a first-timer, you're guaranteed to have a great experience at one of Fukuoka's karaoke bars. Of course, the nightlife isn't just limited to karaoke. A quick trip to the famous street Oyafuko-Dori will prove that Fukuoka parties like no other — you'll instantly find yourself dancing to the rhythm.
Fukuoka is a City of Art and Fashion
If the good scenery and even better food aren't enough to entice you, maybe the high fashion the city offers will do the trick because Fukuoka is also a hidden gem for fashion lovers.
Due to its geographical location, accessibility, and easy-going lifestyle, Fukuoka has been on the radar of fashion designers from all over the world. In fact, most designers nowadays pick Fukuoka as a gateway to Southeast Asia, as it's sort of becoming a trend for them to introduce their new fashion lines at one of Fukuoka's fashion events.
In addition to attracting designers worldwide, Fukuoka has its fair share of designers and boutiques. As the city is sort of like a bridge between Japan and other Southeast Asian countries, the style of Fukuoka can be best described as a mixture of different cultures that come together to form a unique style, as opposed to the more clear-cut style of Tokyo Harajuku fashion.
Of course, not everyone might be into fashion but fret not because Fukuoka also has an exquisite art scene. The city has plenty of art galleries you can visit in your free time, and new exhibitions open frequently, which means that you'll never run out of things to see if you're an art fiend.
ACROS Fukuoka is a great place to start, but you can also check out other smaller galleries like Mizoe or Kaze, which won't disappoint.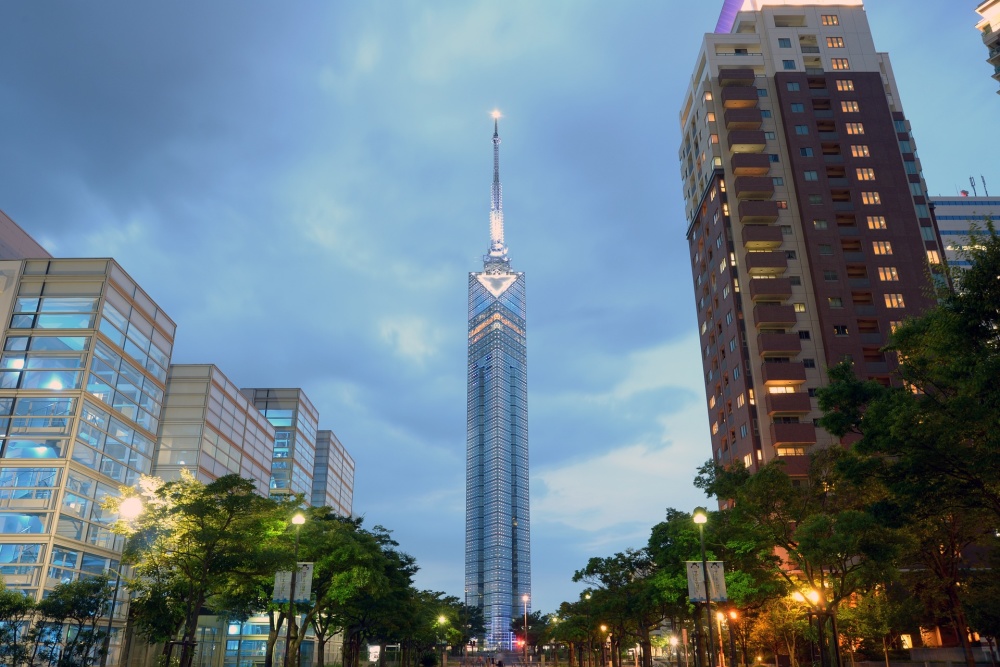 How Does Fukuoka Compare to Other Cities in Japan?
While most people who are considering moving to Japan from overseas have a hard time choosing which city to move to, Fukuoka usually isn't even mentioned. 
Given the abundance of information available about Tokyo and Osaka, many are tempted to pick one of the two, but is that really the best choice?
Now that you know plenty about Fukuoka, let's now take a look at how the city compares to some of the bigger cities in Japan.
Fukuoka vs. Tokyo
Right out the gate, you may have already realized that I compared Fukuoka to Tokyo throughout this article and that Fukuoka makes much more sense in terms of living costs. However, that's not the only criterion where Fukuoka clearly wins.
As I mentioned, living in Tokyo means adapting to living in smaller spaces, especially if you're coming from the United States. I used the word "adapting" because there's no other way to describe it. Living in the tiny Tokyo apartments just isn't ideal, and you really have to make an effort to get used to it. 
Besides, Fukuoka provides much more space for way less money, too. You'll also have an easier time finding an apartment or a house overall because there isn't that much competition. Compared to Tokyo's 13 million population, the 1.6 million population of Fukuoka ensures that the competition will never be so fierce that you'll be forced to prepare house applications similar to that of a bank loan.
Additionally, as if living in Tokyo isn't challenging enough, the weather is also much worse than in Fukuoka. The weather in Fukuoka is generally warmer and much more pleasant. You won't have to deal with snow, and you'll also get to enjoy the several nature getaway spots around the city all year round.
Lastly, Fukuoka is also generally safer than Tokyo. In addition to the crime rate being lower in Fukuoka, the city is also safer than Tokyo in terms of earthquakes because it's not on the Ring of Fire, which is what the major earthquake zone in Japan is called.
Fukuoka vs. Osaka
While I've made most of my comparisons based on Tokyo throughout this article, there's also another big city in Japan that's favored by many, and that is the city of Osaka.
In terms of living costs, Fukuoka once again wins, as expenses overall — including rent — are over 5% higher in Osaka than in Fukuoka, according to Numbeo's stats. 
Another source, Expatistan, also suggests that living in Osaka is 7% more expensive, with the exception of clothes shopping, which seems to be more expensive in Fukuoka. However, this can change a lot depending on the brands you choose, and some universal brands will have the same prices no matter where you go anyway.
As for the living space, Fukuoka once again proves to be the better choice since it's a city with less population than Osaka's 2.6 million. In fact, Osaka's population density is five times higher than that of Fukuoka. 
However, if you're still looking for that dense and intense Tokyo feel without the hassles of living in Tokyo, Osaka can still be a great alternative. Also, another thing Osaka is better for is traveling in Japan. While Fukuoka's location is great for overseas travel, the central geographical location of Osaka makes it a great place to travel to various cities in Japan with ease.
However, unfortunately, in terms of crime rates and safety, Fukuoka is a much better choice. Osaka consistently — and notoriously — has the highest crime rate in Japan.
Of course, this outcome isn't that surprising considering the fact that the very much memed "anti-zombie fortress" is located in Fukuoka. So, let's just say that even if the crime rates weren't lower, you'd be better off in Fukuoka during a zombie apocalypse than you'd be in Osaka.
Modern Tech Companies in Fukuoka
While everything I explained so far alone might be enough to get you to consider moving to Fukuoka, there's no doubt you'll feel better moving here with a solid job offer. 
Luckily, as I explained, Fukuoka is no short of great opportunities for engineers due to it being a city that embraces innovation and technology. After all, Fukuoka isn't called the Silicon Valley of Japan for nothing.
As you'd expect from a "startup city," Fukuoka is bustling with a multitude of startups and tech companies. I'll introduce some of the very best below, but you'll come across plenty more — all of which are personally vetted by our team — if you check out the Japan Dev company list yourself.
LINE Fukuoka
LINE Fukuoka is LINE Group's second domestic base, following the LINE headquarters in Tokyo. Not only does the company hire from overseas, but they're actually focusing on building an international team. This also means that the company provides visa support and sponsors visas for candidates applying from overseas.
The LINE Group might be mostly known for their instant communication app LINE outside of Japan, but the company actually has quite the line of products that range from a news source to a music service. The company also has a doctor service and a payment system called "LINE Pay," among others.
The primary language at LINE is Japanese, however, they do provide an interpreter for meetings, and almost everyone speaks English as well. While knowing Japanese isn't required to apply, the company states that any knowledge of Japanese is appreciated. They're also willing to provide language lessons to foreign employees.
Money Forward
Money Forward is a fintech startup that provides online accounting services to individuals. Since its inception in 2012, the company has garnered great success and branched out to various other types of SaaS products for IT management, cloud invoices, and financial services for businesses.
Although the company is based in Tokyo, it also has a development base in Fukuoka, which has been a key to the success of Money Forward's operations for the past five years. The company also hires from overseas and provides visa support, as they're trying to expand their international team in Fukuoka.
The primary language at Money Forward is also Japanese, however, no knowledge of Japanese is required for software engineers since dev teams operate fully in English. The company has a full flex-time system where you can choose when you work as long as you aren't falling behind.
Money Forward was also selected as one of the best companies to work for in Japan by the Great Place to Work institute.
Cybozu
Cybozu has been in business for a good while, established way back in 1997. The company's groupware solutions set the golden standard in Japan — they've been bringing people together since then. 
The company hires candidates from overseas and has a large office in Fukuoka. They provide visa sponsorship to overseas candidates, of course. Even though the primary language of the company is Japanese, you'll be glad to know that the company doesn't require Japanese for software engineers as dev teams primarily speak English.
Cybozu supports remote work with a remote work allowance and has a flexible work schedule.
Cybozu was also selected as one of the best companies to work for in Japan by Great Place to Work and was also featured in the "Best Workplaces for Women" list as well in recent years.
Mercari
Mercari is Japan's first unicorn startup, and rightfully so. The company owns the largest consumer-to-consumer marketplace in Japan, which allows users to sell and buy used items instantly on their smartphones.
The Tokyo-based company has multiple branches in the U.S. and India, as well as a couple of other cities in Japan, including Fukuoka.
Mercari also hires from overseas and sponsors visas. However, unfortunately, the company doesn't have an English-speaking team in Fukuoka. Therefore, Japanese is required if you're considering applying.
On a brighter note, the company works on a flex-time basis with core hours of 12:00–16:00. They also have a "your choice" policy, as they support working fully remotely as long as employees reside in Japan. 
The company supports relocation with a relocation fee, and it should also be noted that Mercari provides one of the best time-off perks in Japan as well.
Sansan
Sansan is a company that provides contact management products that help users turn their business contact information into meaningful, shareable data. They have two products which are Sansan, a contact management service for businesses, and Eight, a networking platform tailored for private users.
Although the Tokyo-based company is becoming more international and the Tokyo office speaks both Japanese and English, the company's Fukuoka branch is currently only hiring engineers who can speak Japanese.
On the other hand, as long as they speak Japanese, Sansas does hire candidates from overseas and sponsors visas. They currently have employees from over 15 different countries.
Sansan has a mixed working style, and employees are allowed to take remote-working days as long as they come to the office three days a week. They also have a flex time system with core hours between 10:00 and 16:00.
Akatsuki
Akatsuki is an entertainment-focused company that mainly creates video games for mobile devices as well as a comic book app called Hyke Comic for smartphones. The company's business is centered around gaming and creating new media intellectual properties.
The company was founded in 2010 and is based in Tokyo, with offices in Fukuoka as well as in Taiwan. 
The company's Fukuoka branch has a development team, and they also hire foreign candidates, but they only hire Japanese-speaking candidates at the time of writing. 
Also, I should note that the company requires business-level Japanese from all candidates, which may be an issue.
Yahoo
The internet giant Yahoo started out as an internet directory, which was an early precursor to the search engines of today back in 1994. The company is considered to be one of the trailblazers of the early days of the internet. 
Nowadays, Yahoo's business is more expansive than just a search engine, as it includes a wide variety of services such as e-mail, weather, and news, among many others.
One of Yahoo's many offices is located in Fukuoka, and they have a development team there as well. The Fukuoka branch sadly only accepts Japanese-speaking individuals since they currently don't have an English-speaking team in Fukuoka yet.
Similar to Akatsuki, Yahoo also requires business-level Japanese from all candidates, so it's good to keep this in mind when applying for a position.
Conclusion: Should You Move to Fukuoka?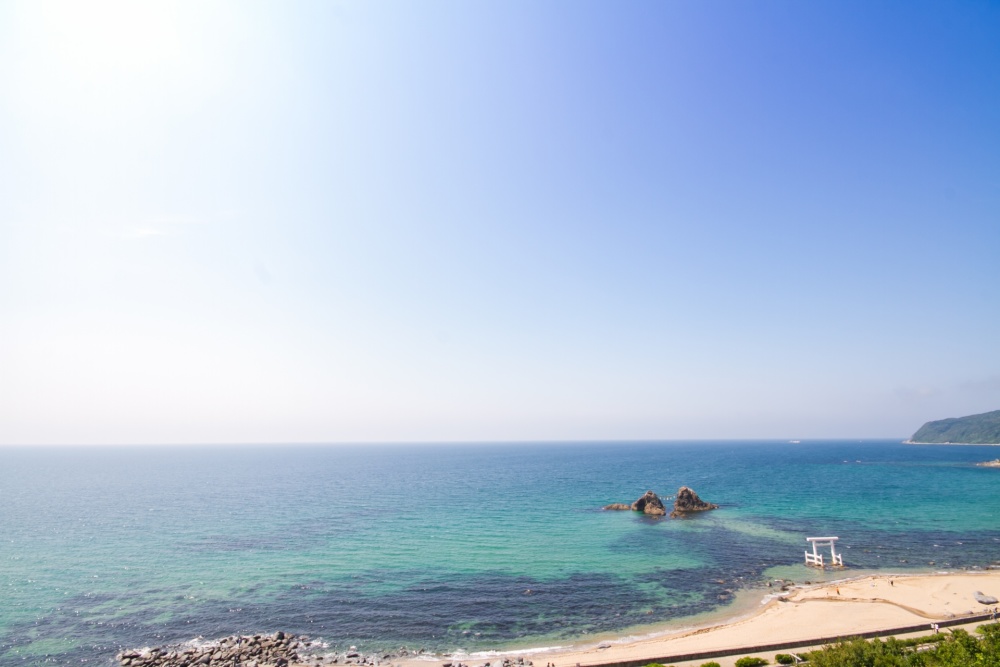 As I explained, Fukuoka has a lot to offer. The city has beautiful nature, a bustling city life, and a vibrant startup scene, and it's also affordable to live in. 
Still, whether you should move to Fukuoka or not is entirely up to your personal choices. If you're someone who loves the chaotic lifestyle of a big city, Fukuoka might not be enough to satisfy you. 
What Fukuoka can offer, however, is a nice, lukewarm middle ground. It's a great city because it has a little something for everyone, and it lets you enjoy what it has to offer in weather conditions that are nice almost all year round. 
As a foreigner, you'll also enjoy the openness of Fukuoka, which is a nice contrast to the closed culture of Japan. You'll have a generally easier time adapting, and you'll also feel that the city is adapting to you as well, thanks to its culture of inclusivity and diversity.
The city also offers tons of activities with its international arts and fashion scene. What's more, a growing number of foreign professionals who come to Fukuoka to build a new life make for a diverse expat scene which should help immensely on your journey to integrate into daily life in Japan.
All in all, Fukuoka is a great place to live, not just for people who live in Japan but for everyone from all over the world. There are tons of opportunities for engineers thanks to it being a startup city in addition to being a city that embraces innovation and technology. 
So, if moving to Japan seems daunting to you, why not give Fukuoka a try? It can be a great choice to make things a lot easier on yourself. You can start by looking up job listings on Japan Dev and read up on my post on getting a visa as an engineer in Japan. 
Alternatively, if you don't know where to start, my guide to job hunting in Japan is a great resource that has everything you need to start your journey.
Latest Tech Jobs 🇯🇵
Explore the top developer jobs in Japan for foreigners
Search all jobs ➜
Get Job Alerts
Sign up for our newsletter to get hand-picked tech jobs in Japan – straight to your inbox.