Co-Working Spaces in Tokyo: Best Options in 2023
Working from home is great, but it can get boring quickly.
Ever since the beginning of the pandemic, remote working has been on the rise. Many of us got to live out our fantasy of not leaving home for work in the morning. It was simply a dream come true, but sadly, the novelty has started to wear off.
Although working at home is still tempting, we are slowly coming to the realization that our homes might not be the ideal place to actually get work done.
I already talked about this in my post on remote work in Japan, but the number of companies that allow remote working has been on the rise in Japan.  This isn't a temporary thing, either. A lot of companies have adopted permanent remote work policies, and new ones are joining the club every day.
This means that many people will keep working remotely regardless of the pandemic. This is why co-working spaces have also gained a lot of popularity in recent years. What were once the habitats of freelancers are increasingly becoming offices for digital nomads across the globe.
This is why I wanted to prepare a guide showcasing the best co-working spaces in Tokyo. In this post, I'll explain what you should look for in a co-working space and share my picks for the best co-working spaces in Tokyo. 
Co-working in Japan: Things To Consider
As working looks different for every job, each co-working space has its own unique style. You'll need to find one that fits your needs the best, but first, you need to know what to look for.
The General "Vibe"
I'd say that, in general, there are two kinds of co-working spaces. 
There are the fun and comfortable co-working spaces that young creatives frequent. These places usually try to simulate a home-like environment and offer a lounge for hanging out, sleeping pods for taking a nap, and even showers for when you want to freshen up.
The second type of co-working space is more on the serious side. These are places that resemble a classic office space designed to create a productive work environment. It's where corporate people in suits come to hold meetings and get tasks done. 
Alternatively, there are also some cafés with a co-working atmosphere where people frequently come to work. These may work especially well if you're the social type. As some people might feel too pressured to work in serious settings, the calming aura of a quiet café might just be what they need.
This isn't to say that every co-working space fits into one of these descriptions, of course. There are ones that offer the best of both worlds, but you'll find that most of these places have a specific vibe in general. 
The Price Point
Another thing to consider when picking a co-working space is the price point. Luckily, there are lots of Tokyo co-working spaces that offer very reasonable prices with daily and monthly passes, and some even offer hourly passes.
You can even find one that's free, like the Yahoo! Lodge, although those are somewhat rare. I'll share another good one on my list below.
Generally speaking, the daily rate of most co-working spaces is around 1,200–1,500 JPY. There are cheaper options, but this is what you'll most likely pay.
If you're a digital nomad and know that you'll visit a co-working space frequently, I recommend getting a monthly or weekly membership. You'll pay less compared to the daily rate, and you'll also get to benefit from the amenities these spaces offer exclusively to their members.
If you're on a budget and don't want to waste money on entry fees before you try out a place, you can also make use of free trials some places offer, as PAX Coworking does. 
If you're curious about the general expenses in Japan, you may also find my guide on the real cost of living in Japan useful. I explain all the expenses you'll encounter there so that you can plan your co-working expenditure accordingly.
The Location
Location is another important consideration when picking a good co-working space. If you especially work remotely and want to use a co-working space frequently, you'll need to pick a location that won't be a hassle to get to.
However, you also don't want to pick a not-so-lively part of the city just because it's easier to reach. This might get depressing quickly, especially on days when you're not in the best mood. 
Luckily, in Tokyo, you'll find co-working spaces scattered all across the city. They're almost in all central districts, but most of the good ones are concentrated around the Shibuya and Shinjuku districts. 
I'd say that picking a space around these districts is the way to go, even if you don't live in the immediate vicinity. These areas are easy to get to by public transport, and they are the liveliest areas of the city, which might lift your spirits on days when you're dreading going to work.
If you're not familiar with Tokyo's districts, you can check out my post on the neighborhoods of Tokyo, where I explained which ones are the best for living and visiting.
Best Tokyo Co-Working Spaces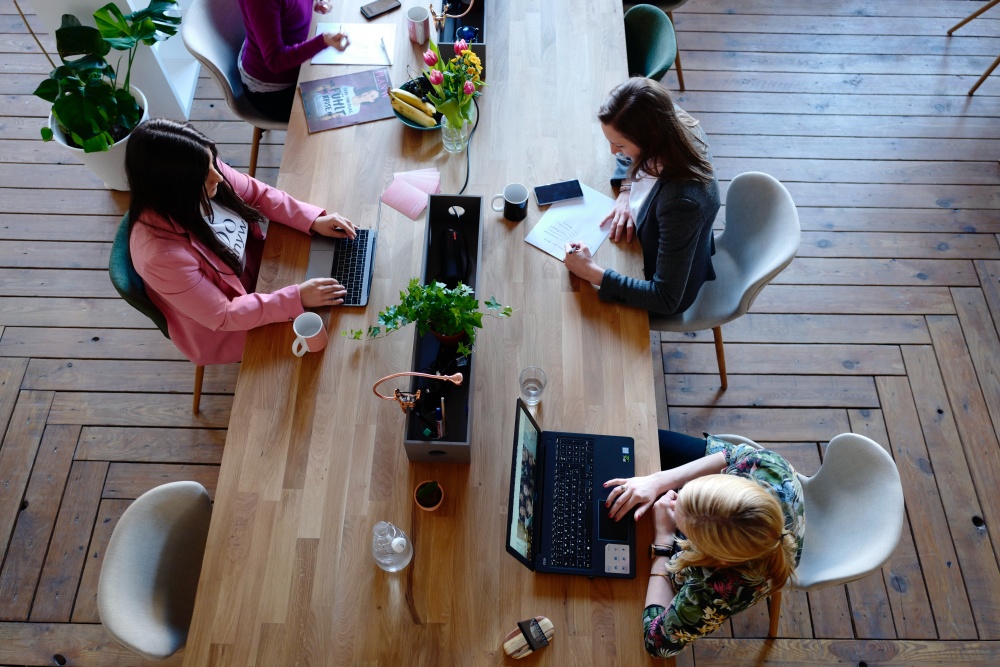 Now that you have a general idea of what to look for in a co-working space, let's take a look at some of the best ones in Tokyo. Here's a list of my top picks:
Let's take a closer look at each one.
The Hive Jinnan
The Hive Jinnan is one of those places that simulate a cozy home environment. Its accessible location in the heart of Shibuya makes it one of the best co-working spaces in Tokyo — without a doubt. 
The space resembles a chic, third-wave coffee shop with wooden details and a minimalist aesthetic. The clean-looking environment makes the Hive an ideal space for focusing on work while having cafe services at your disposal for when you want to grab a bite or coffee and relax.
The Hive has everything you need — from printers, phone booths, and high-speed WiFi to personal mailboxes for when you want to have a package delivered. 
While the opening hours are between 8 a.m. and 6 a.m., some membership packages allow 24/7 access to the space. Speaking of which, you have a number of options at The Hive that range from a daily pass, which costs 2,200 JPY, to a month-long membership, which costs 17,600 JPY.
Andwork Shibuya
Located inside The Millenials, a nice hotel in central Tokyo, Andwork Shibuya is one of Andwork's many locations scattered across the city. 
The fact that it's in a hotel makes Andwork one of the best options available because members can use the hotel rooms to take power naps or even showers. Of course, these options, along with the option to book private meeting rooms, are only available for month-long memberships and above.
Andwork Shibuya has a lounge for hanging out and a kitchen that's open to all members, and there's even a terrace to get some fresh air. There's also a free bar where you can get hot and cold beverages, and you can get free beer during the happy hour as well.
The membership plans at Andwork are quite flexible. They offer an hourly pass for 800 JPY and a day-long pass for 2,500 JPY. If you want to become a member, you can do so for 20,000 JPY. However, keep in mind that there's also a one-time sign-up fee of 5,000 JPY.
Creative Lounge MOV
Creative Lounge MOV is another great co-working space that's located in the heart of Tokyo, Shibuya. 
Creative Lounge MOV has a big co-working space that's for common use, but they also offer private office rooms at request. The space has a professional vibe overall, and the design is chic but toned down to prevent any distractions. 
In Creative Lounge MOV, you'll find large tables and chairs for working as well as big, comfy couches for relaxing. There is also a break room, which is equipped with a microwave and a coffee maker, and a snack room for when you get hungry. A library is also available if you need a particularly quiet place to work.
With a small daily fee, you can also bring guests over, and the meeting rooms are also available for holding meetings of up to 24 attendees. 
The hourly rate of Creative Lounge MOV is 1,100 JPY, and the price of a monthly membership is 17,300 JPY. As it's pretty standard in these places, there's an additional sign-up fee of 11,000 JPY.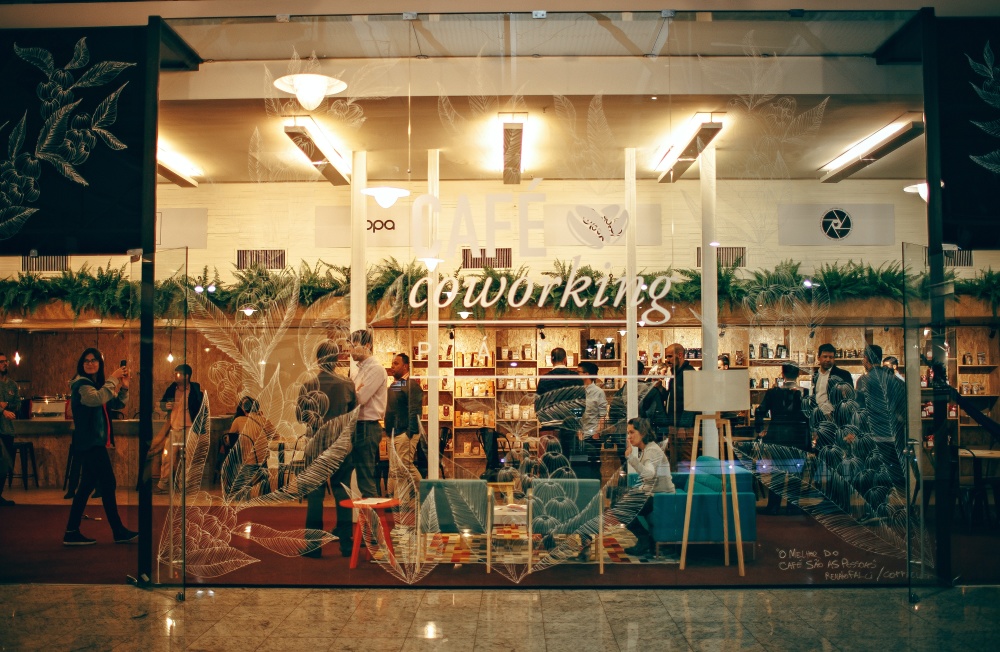 Fabbit Kyobashi
Fabbit Kyobashi is another co-working space with a central location near the Tokyo Kyobashi station. 
Among the ones I mentioned so far, Fabbit offers the most office-like space. The interior design of the co-working space heavily resembles an open-style corporate office. There are also private office rooms you can rent, and these can hold up to 12 people. 
As this is one of Fabbit's 23 locations across Japan, you're also free to use the other locations whenever you're traveling. High-speed WIFI is available in all locations, along with a mailbox service. If you wish, you can also register Fabbit as your corporate address.
At the Kyobashi location, you'll find a nice breakroom with hot and cold drinks, as well as a copy machine and private meeting rooms. 
The daily pass at Fabbit Kyobashi costs 1,800 JPY, and there are also monthly memberships that start from 14,000 JPY. The only downside is that they charge a pretty hefty sign-up fee, which is 20,000 JPY.
Basis Point Jimbocho
Basis Point Jimbocho is one of Basis Point's many locations around Tokyo. It's easy to get to as it's within walking distance from the Jimbocho station. 
The design of the place gives off a hotel vibe with modern-chic details and a minimalist but rich-looking interior. You can find spacious common seating areas, as well as semi-private areas for when you need that extra bit of focus. 
Conference rooms are also available for meetings, and you can even rent a shared office space as a company, which also gives you access to all of the facilities common members get to use.
There are free hot and cold drinks and printers available for all visitors, and you can even rent out a laptop or a monitor. 
The hourly pass for Basis Point Jombocho costs 600 JPY, while a daily pass is 2,400 JPY. If you want to become a member, the monthly fee is 15,800 JPY with a sign-up fee of 5,000 JPY.
Cafe Salvador Business Salon
As I mentioned, some cafés have an atmosphere that's specifically a good fit for co-working. Cafe Salvador is one of these places, bringing a café atmosphere and a co-working space together in the financial center of Tokyo, Nihonbashi.
As this is essentially a café, you can enjoy good food and coffee while you're working, which is a big plus. The interior design has a café aesthetic as well, with communal and separate tables as well as big, comfy couches to sit and relax.
Café Salvador doesn't have a membership option, but the rates are reasonable if you occasionally need a co-working space. Thirty minutes cost 300 JPY, while an hour is 600 JPY. If you want to stay the whole day, you can do so for 1,800 JPY.
Blink Smart Workspace
Blink Smart Workspace is one of the biggest co-working spaces in Tokyo. It's a five-story building with a cafe and a restaurant inside. 
Located in a quiet area in Minato City's Roppongi Hills, Blink Smart Workspace is within walking distance from the nearest train station Roppongi. 
The space is equipped with a kitchen for common use, as well as lockers and even showers. Pets are allowed inside as well, which enhances the warm atmosphere of the place more than you'd think. 
You can rent a space for a half day, which is the cheapest option (1,200 JPY). Alternatively, you can choose one of the monthly memberships depending on your needs. For 20,000 JPY a month, you can get the Café Lounge Table package which includes access to high-speed WIFI and phone booths in addition to daily access to the space. 
If you're looking for more, the Hot Desk package includes daily free coffee in addition to a printer service, and it gives you access to the meeting rooms as well for 40,000 JPY monthly.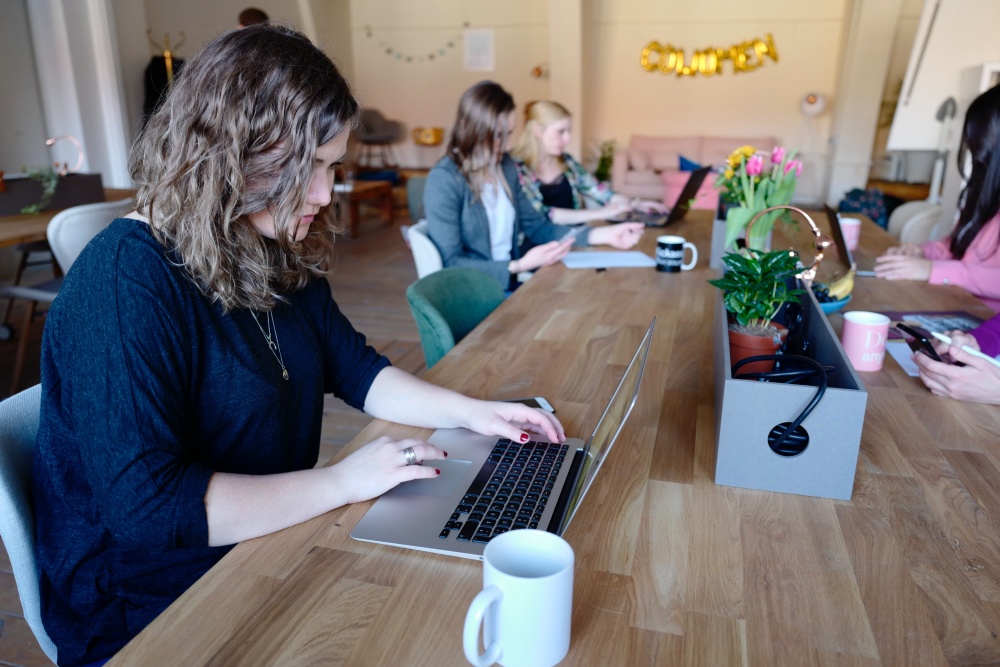 Yahoo! Lodge
Located in the Nagatacho area, Yahoo! Lodge is Yahoo!'s co-working space that's equipped with a kitchen. There's also a restaurant and a cafe inside, and the best part about this place is that there is no entry fee.
Within walking distance from the Akasaka-Mitsuke station, the cozy and cute interior design of Yahoo! Lodge resembles a modern art museum café decorated with lots of colorful furniture resembling abstract works of art. 
At Yahoo! Lodge, you'll find pretty much everything you need. There's free WIFI, of course, but there are also monitors, whiteboards, private desks for focusing, and even pillows to provide you with the comfort of working from home.
You only need to show your ID to enter the space — there's no entry fee. There's free water available, but if you need anything else, you'll need to get it from the restaurant inside. If you don't want to pay for anything, you can also bring your own food and drinks, which is totally allowed.
Latest Tech Jobs 🇯🇵
Explore the top developer jobs in Japan for foreigners
Search all jobs ➜
Get Job Alerts
Sign up for our newsletter to get hand-picked tech jobs in Japan – straight to your inbox.