Updated September 29, 2023
How to write a perfect developer resume in Japan [2023 guide + template]
Are you looking for a job in Japan as a software developer?  If so, the job hunting process can be confusing.  
If you're fluent in Japanese and looking to work at a traditional Japanese company, you have a set path to follow.  But if you want a developer job at a tech startup or foreign company, it's often less clear.
When applying to these companies, you'll usually need a western-style version of your resume that's specifically prepared for the Japanese tech industry. 
This post is my resume guide for software engineers who want to work in the Japanese market. I'll explain everything you need to know, in detail.
Also, I built a sample resume based on this guide.  You can click here to download the sample template now and customize it based on the advice below.
Let's get into it!
Do I Need a Japanese or an English Resume in Japan as a Software Engineer?
As a foreign developer in Japan, one of the questions I get asked the most is whether to prepare a resume in English or in Japanese.
It's a valid question, as the tech industry is different from many parts of the traditional business world in Japan. However, there isn't a clear-cut answer to this question. 
If you're applying for a job at a Japanese company that operates in English or a global company that works in the international market, you definitely need an English resume that's prepared in the classic western style. 
Most modern tech companies in Japan (like the ones on Japan Dev) will accept an English resume — there's no need to prepare a Japanese "rirekisho".  But you should check the requirements for each job, and prepare one if it's required.
Alternatively, if you're applying to a traditional Japanese company, you'll likely need a Japanese resume ("rirekisho") ready.
A Japanese resume basically proves your motivation toward the job you're applying for, and it also serves as proof of your Japanese competency. I talked about how to prepare a Japanese resume for software engineers in a separate article, which you can follow to prepare yours.
In general, you should check the requirements for each position and prepare the type of resume they ask for.  And if it's unclear from the job description, you can't go wrong by including both English and Japanese resumes.  Especially for positions that require business level Japanese skills or above.
For positions where the interview process is all in Japanese and the company is international, an English resume is usually enough.
Cover Letter for Software Developers and Programmers in Japan
During your job hunt in Japan, in addition to a "rirekisho" and an English or Japanese resume, you may also need a nicely written cover letter.  But please note, traditional Japanese companies don't require a cover letter, so if you're applying fully in Japanese using a "rirekisho" it's probably not needed.
A cover letter is a personalized letter that you attach to your resume. Here, you have the chance to explain why you're the perfect fit for this job specifically, and you get to explain anything you want to clarify that's on your resume as well.
Essentially, your cover letter should include the following:
Why you're applying/your motivation,

Why you're the perfect match for this specific job,

Details about your most relevant 2–3 skills, and

Explanation regarding any potentially concerning points your CV may include.
That last point is mostly about explaining the gaps in your resume. I wrote about what's considered a "gap" in my post on changing jobs in Japan, which you may find helpful. 
However, a gap might not be the only thing that needs to be explained here. If you have any interesting experiences or skills that are unrelated to the rest of your resume, you might also want to provide an explanation for these as well. 
If you're looking for a detailed guide on writing a cover letter, I recommend you check out my other post, where I talked about writing the most effective cover letter in detail.
Before You Begin: Meet Application Tracking Systems (ATS)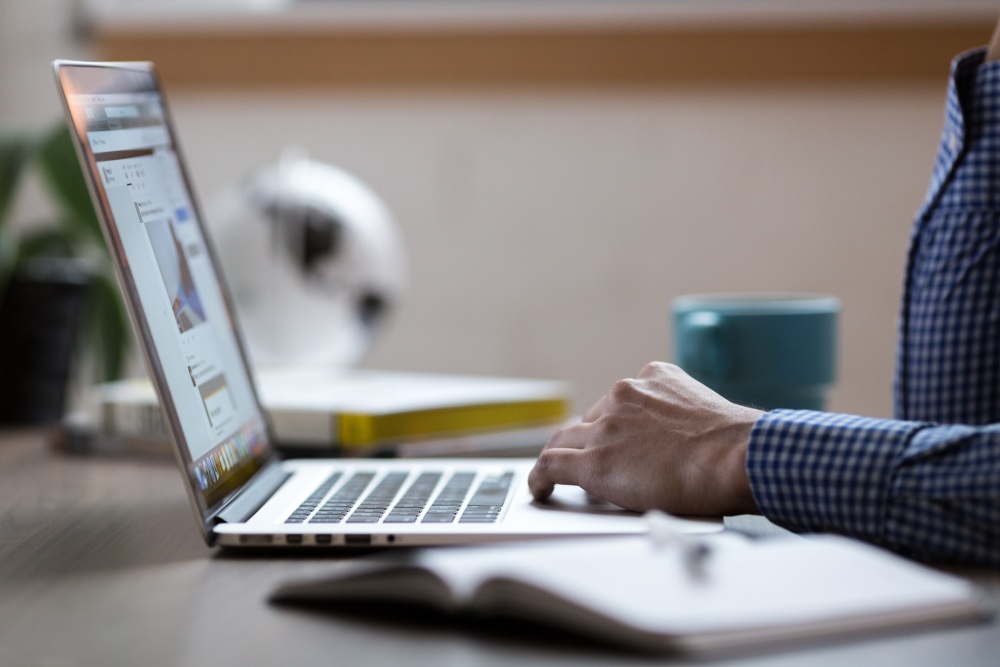 Before I get into the specifics of preparing an effective resume, I need to explain what an ATS is.
Essentially, ATS, or Application Tracking System, is the "robot" that screens your CV before it's seen by an actual human. Not all companies use ATS systems to screen resumes, but some companies do.  So it's useful to be aware of them.  
These systems are mostly utilized by large corporations to save time and optimize the hiring process.  So you usually don't need to worry about them when applying to small startups.
An ATS works by going through the document and looking for specific keywords and clusters to decide whether a CV is relevant to the position. If your CV doesn't include the relevant keywords or if the formatting is too complex for the ATS to understand, it might end up being excluded from the other applications. 
This is why you need to pay extra attention to your wording and formatting when preparing your resume. The templates you find online may look pretty, but the formatting alone may cost you an interview if you aren't careful.
In my guide below, I'll explain how you should word and format specific parts on your resume to make it optimized for Application Tracking Systems and to make sure that your resume passes the automated screening process.
Now, let's get on with how you should write your resume.
How to Write an English Resume to Use in Japan
As I explained above, the format and structure of your resume are very important. While you'll want your resume to pass the ATS screening, you also want your resume to catch the recruiter's eye.
You want a clean look and a clear structure to follow — avoid using fancy but hollow words to describe yourself or your experiences.
In general, you'll also want to avoid using graphics and sidebars to show your skills.  In general, the simpler the better.  The goal is clarity — you want the interviewer to be able to glance at the page and immediately want to interview you.
Because regardless of how long it takes you to prepare your resume, research shows that hiring managers may only view it for 7 seconds on average.
For a well-optimized and clean resume, you can roughly follow this structure:
Header and personal/contact information

Personal summary

Detailed work experience

Education history

Relevant skills and certificates

Languages

Optional add-ons (side projects etc.)
Let's now take a closer look at each section and how you should write it. Before we begin, you can download our sample resume template from this link and prepare it according to our instructions below.
Header and Contact Info

First things first, you need to start your resume off with your name. If you want, you can include a title below that, like "Software Engineer", but I don't think it's necessary in most cases.
Right below your name and optional title, you should state the city where you're located (you don't need a full address — they just want to know your basic location), your contact info, and links to relevant platforms like your Github and/or LinkedIn. 
It's helpful to include clickable links to your profiles on platforms such as GitHub, Stack Overflow, HackerRank, or other platforms where you have good, relevant content. These links not only show off your online presence but also your coding skills. 
Just make sure to embed your links properly and not leave them out as visible links for a clean look.
Personal Summary/Profile

I recommend calling this section "Summary" or "Profile".  A lot of people call it "Objective", but this is a mistake — your goal is to highlight why the reader should hire you.  The focus should be on proving you're a good fit for their needs, not your personal "Objective".
The "Summary" section is the only section of your resume where you can write about yourself freely, using full sentences. This is exactly why you should be extra careful when writing this section. Let me explain.
As a software developer, you might have a few different titles.  You may have worked as a backend engineer for a while, and a front-end engineer at other times.  So how should you describe yourself in this section?  It's simple: personalize it to the specific job you're applying to.
For example, if you're applying to a server-side engineering role — and you have experience working as a server-side engineer — you should highlight this experience as much as you can (without lying).  
When you personalize your wording to the exact job, a hiring manager will see the keyword they expect (e.g "backend engineer") within 2 seconds of viewing your resume, and want to read more.  If you write "full-stack developer" instead, you might fail to get their attention and get passed over.
In general, always personalize your resume to the specific job you're applying to.  I know it's time consuming, but it's worth it — you'll get way more interviews if you do this.
Many people go all out here and fill their summary with flashy words and information that has no place in a summary in the first place. I recommend a more minimalistic approach — use it to quickly get the company's attention, and explain why they should hire you.
As most people struggle with writing this section, I recommend preparing the rest of your resume first and then coming back to this section once you're done. This way, you get to take a look at your work history and the skills you've listed on paper and be more objective towards yourself. 
This method will help you pick the skills and experiences that are the most relevant to the job you're applying for more easily. Then, you can simply shape your summary around this information.
Ideally, you want to answer the questions the hiring manager has in their head as they open your resume.  

Let's go through this example summary again, from the perspective of a hiring manager.   Here's what they might be thinking:
"I need a backend engineer.  Can this person do that job?"
> Backend engineer
"Great! But are they experienced?"
> With 8 years of industry experience in Japan
"Cool! But have they worked with Go?"
> scalable backend systems with Go, GCP, and Kubernetes
"Awesome! But are they bilingual?"
> Fluent Japanese speaker
"Sweet!  But do we need to help them get a visa?"
> permanent resident of Japan
"Amazing! I should interview this person!"
Of course, it helps when you're qualified for the position.  But you can always highlight different aspects of your profile to give the best impression possible for each job you apply to.
And if you're a foreigner who needs a visa to work in Japan, I recommend including your visa status in your summary as well (especially if you're a permanent resident or already have a visa, as companies will see this as a plus). Many recruiters and hiring managers will likely look for this as soon as they realize you're a foreigner, so giving this information early is a good idea.
With all that said, if you're having an especially hard time writing this section, you can choose to skip it entirely. Focusing on optimizing your work experience section instead can yield better results than you may think.
Work History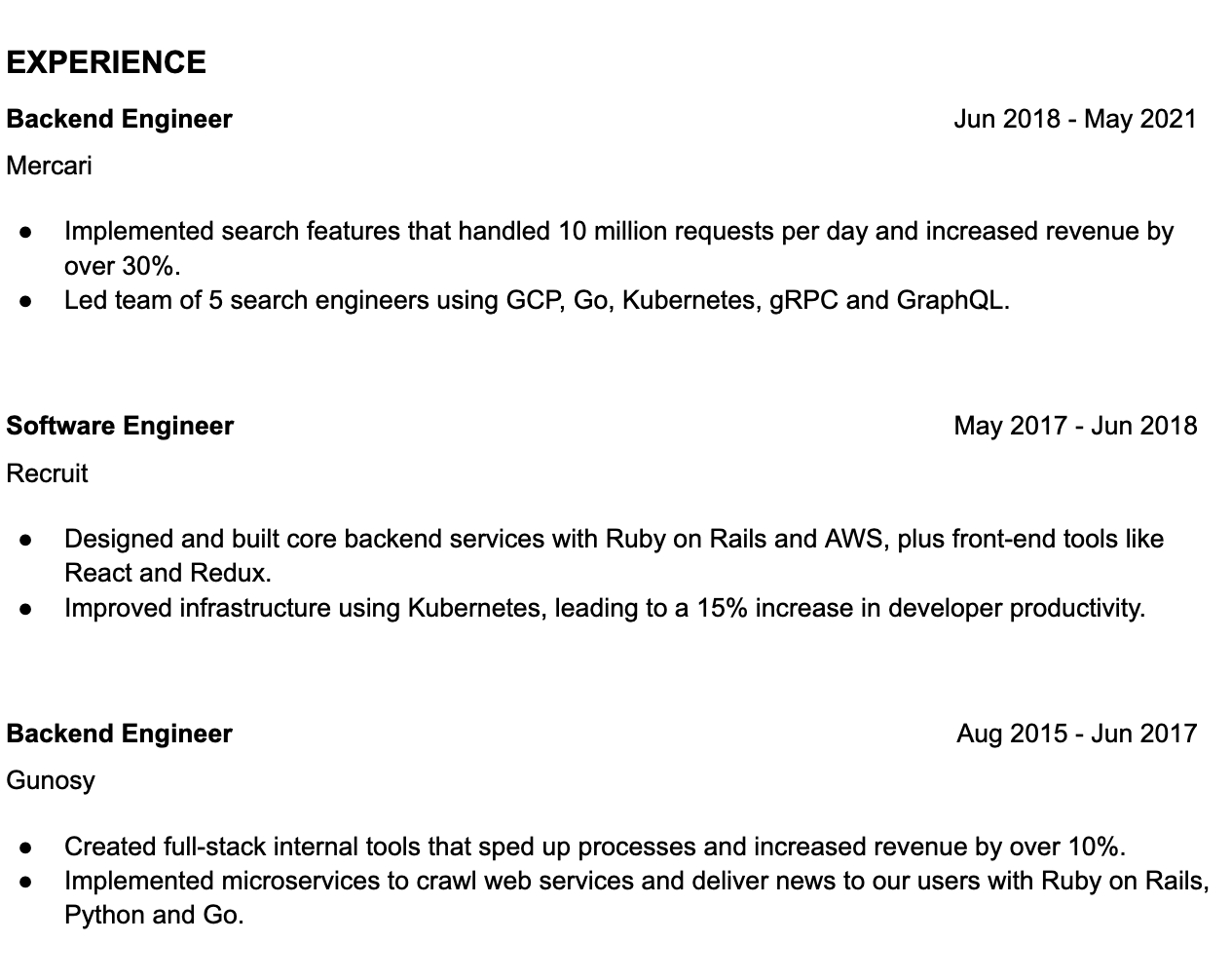 The work history section is arguably the most important, as it's where you get to show off your relevant professional experience in the field. 
For starters, make sure you list your experiences by recency (most recent first).  This means that your most recent job should be at the top, immediately visible at first glance. 
Simply write the name of the company and your title/position for each job, and include the time span you've worked there.  You may want to include the location as well, especially if it's different from the location of the job you're applying for.
As for what you should write under each work experience, there's a simple rule you can follow that will help you impress recruiters. For each experience, you should mention what you did (responsibilities), and your achievements (this is not the time to be humble).
Responsibilities
This is what you were hired to do, and the projects you were a part of. You want to clearly communicate to the recruiter what type of experience you got, and show that it qualifies you for their job.
It's helpful to mention any technologies you used that match the requirements in the job description.
As a rule, writing in long sentences and big paragraphs should be avoided here. A clean-looking bullet-point list will deliver the message better, it'll work better for the ATS screening, and it'll also make your resume look more professional.
Be concise.  I recommend writing just enough to explain what you did, and then focus more on achievements and outcomes.  Be careful, though, as each bullet point shouldn't take more than one line. 
Lastly, try to use power words where possible.  Don't just say "responsible for X" — that sounds too passive (like you were assigned some work, not like you actively took initiative).
Here are some power words you can use:
implemented 

designed

led

executed
But in general, the best advice is to use concrete numbers wherever possible.  Instead of saying "high-throughput" you could say "1 million daily users", for example.
Key Accomplishments
A lot of people make the error of skipping their accomplishments and only mention their roles in their resumes. Putting key accomplishments under each experience shows that you're result-oriented and are actually getting things done, rather than just filling a role.
Essentially, key accomplishments are where you talk about results. I'd say mentioning at least 1-2 accomplishments under each role is a good idea.
Make sure your accomplishments are concrete and measurable.  Far too many people write accomplishments like "increased page speed substantially".  This is vague, and doesn't really tell the reader much.  Laszlo Bock (Google's former SVP of People Operations) has great advice on how to list your successes: "Accomplished [X] as measured by [Y] by doing [Z]". 
If your work is largely project-based (e.g. in development, as a PM) and you have plenty of projects you want to list under each role, you can also create a separate section dedicated to projects.
This helps keep the format clean.  An "Experience" section with 5+ bullet points under each company looks crowded and most people aren't going to read it all.  But if there's a separate 
As a general rule, I recommend writing more bullet points for the most recent jobs you've had. This is what the recruiters will mostly focus on anyway, and you want to keep your resume as concise as possible.
I recommend focusing on the past 3-5 years in your work history.  You don't need to include everything you've done in your career, just the most relevant parts, and with a focus on recency.  You should try to at least have the list of positions, but you don't need detailed information for old or irrelevant jobs.
Similarly, as a developer, you can also leave out unnecessary details about the inner workings of a project. Simply giving the title is enough in most cases, and more details will just take up precious space that could be utilized otherwise.
Also, sticking to using industry-specific keywords only is also a good idea, which might help an ATS find keywords and increase the chances of a human viewing your resume.
Education History

Even if you've proven yourself through your work, many employers in Japan still care about your education history.
Of course, this section matters less as you progress in your career. This means that if you're a recent graduate with only one job experience under your belt, you'll need to rely on this section more.
This may be vague, so as a rule, I'd say that if you have over a couple of years of experience already, stick to just writing the name of your college and your degree, along with the duration of your studies (and maybe some simple details like coursework, if they help prove you're a good fit).
Many people also like to list their GPAs here, but if you've been out of college for more than a few years, this will be redundant. Don't list your GPA unless you're a new graduate (and it helps prove you're a good fit).  Your school accomplishments won't matter much if you don't have the relevant experience, after all.
However, if you graduated recently with a great GPA (perfect, or close to perfect), or if you were the valedictorian of your class, you can also mention that. 
This sort of information can actually help create a good image as it makes for a "go-getter" or achievement-driven look. You can back this up in the other sections of your resume and create a consistent, successful image.
Also, I recommend only mentioning your college education and higher under this section. This means no high school information, and certainly nothing below that. You may laugh, but this isn't exactly unheard of.
If you have directly relevant certificates from a professional program, you can mention these as well. But it's usually better to list these at the bottom under "skills" or "certificates" (or skip them entirely depending on the position).
Skills and Qualifications

Speaking of which, your relevant skills and certificates are another important part of your resume.  It's often a good idea to include them (at least your skills for development positions).
Just make sure this section feels focused.  You don't want to list a huge amount of data across different areas.  Instead, you should be supporting the basic assertion that you're a skilled developer.  So if you're applying for a backend position, you should focus on skills related to backend.
I don't usually include a "Certifications" section, but you can if you feel it will help your chances of getting an interview.  In that case, make sure it's up-to-date.  You don't want your only certificates to be from 10 years ago, which will work against you instead and can make you look like you've stopped improving. If this is the case, I recommend removing this section completely.
Lastly, make sure you write the names of skills and certificates in full. An ATS might not recognize abbreviations when searching for keywords.
Using Charts, Bars, or Graphs
When writing the skills section, you want to keep it relevant and list the skills that the job listing calls for. You can categorize your hard skills (e.g "backend", "frontend", "databases" or whatever's relevant to the position). 
Many people like to rate the level of their skills in their resumes using a chart or a bar, but I don't recommend doing this for two reasons. Firstly, your potential employer will most likely test your skills and decide for themselves through a trial task anyway and probably won't take your charts into account.
Secondly, an ATS is usually unable to recognize and register the bars, graphs, and charts that are used to "rate" these skills on resume templates. Formatting this part in a chart or graph can lead to ATS not recognizing your "skills" section completely, which isn't ideal, to say the least.
Ultimately, these scores are too subjective to be directly useful to hiring managers when comparing candidates.
Soft Skills
The other thing I wanted to touch on is soft skills, which are often skipped.
Soft skills are non-technical skills that show how you do your job and how you handle certain situations and therefore are telling of your character. I recommend researching the role and the company you're applying to and tailoring your soft skills section to fit the culture and the environment of the company.
For development positions, I don't normally include any soft skills.  But if you have a unique and relevant experience that you think will impress hiring managers, you can include them.
Languages

While this section may not be a requirement in all resumes, I definitely recommend including this for applying to jobs in Japan. 
English isn't as widely-spoken in all parts of Japan, and most jobs may require at least some level of Japanese. If you don't speak Japanese at all, learning at least basic, conversational Japanese can help you tremendously in finding a job.
You can head on over to my post on the best tools to learn Japanese if you're curious. Alternatively, you can also check out my guide to the best language schools in Japan as well if you learn better in a classroom setting.
Also, it's better to state your speaking and reading/writing levels separately when you're listing your Japanese skills. You can also back this up with a JLPT score, which you can learn how to prepare for in my post on how to study for the JLPT.
That said, while the JLPT score can help you get an interview, it certainly won't help you after you pass the initial stage. 
I talk about this extensively in my post on how to find a job in Japan as a developer, but essentially, most Japanese people don't even know what the JLPT is. If you manage to snag an interview, your conversational Japanese skills during the interview will be much more effective than the score on your resume.
Of course, if you speak any other languages, you can list these as well. If you're not a native English speaker, you can state your levels the same way you do with Japanese, and if you have one, including your TOEFL/IELTS score is also a good idea.
Optional Add-Ons
If you'd like, you can list any personal interests you have (especially if they have corresponding achievements), along with personal projects. This is a chance to show a little bit of personality, and it's also a chance to prove that you're actually interested in the job.
Although it's optional, this part serves as the "Self-PR" section of your resume and, therefore, shouldn't be skipped. You want to show that you're not just lazing around in your free time and that you're actually interested in what you do.
Bonus points if your outside-of-work activities match your work because it'll just prove how dedicated and sincere you are. If you have other interests, that's fine too. It'll show the recruiters that you're an interesting person, which might help in getting you an interview.
This section is also great for showing off any contributions you may have on open-source projects. Open-source projects are a great way to show off your skills and your passion for your work. I highly recommend including these, especially if you've contributed to projects used by the company you're applying to.
Similarly, if you've collaborated with other people on their projects, you can mention these too. If you don't have any experience collaborating with other people, you can check out my post on the best Tokyo meetups, which will help you meet like-minded people you can collaborate with.
Interest in Japan/ Japanese culture
If you come from abroad, feel encouraged to add the reason you moved/ are planning to move to Japan (if you feel comfortable to do so, of course).  Most hiring managers will be wondering this, so it can be helpful to answer it clearly.
But it also depends on your situation.  As a permanent resident of Japan for 10 years, I wouldn't include this information.
Tips for fighting an uphill battle
Junior Developers
In Japan, mid-career software developers are in high demand.
That means there's a clear path for finding a job as a mid-level or senior dev.  When you apply to companies, they'll usually reply — even if your resume isn't perfect.  Recruiters will be eager to talk to you.
But what if you're a student or recent graduate?  What if you don't have a lot of work experience?  I'll be honest: it will be more difficult to find a job.  But not impossible.
One thing you can do is focus more on your educational background in your resume.  You can include university projects and play up your coursework more (targeted towards the position of course).
Some companies are open to hiring juniors.  You just have to show that you have curiosity and a desire to learn and contribute.  It might take some effort, but plenty of people find great positions in Japan as juniors.
Gaps in work history
If you have gaps in your work history, a standard resume might not be the best fit.
You could change the format to focus more on your skills, projects you've built and other types of experience you may have had (including those focused on soft skills).
One extreme option is to remove the dates from your CV, and keep only the periods of employment measured in months or years.  Or you could keep only the years, and take out the months (for example, 2017 - 2020).
Some companies will likely decline to interview you if you do that though, so it might not be the best idea.  In general, it's better to do whatever you can to fill the gaps (usually you were doing something during that time).  Or if you're comfortable writing the reason for your absence from work (e.g "on medical leave") you can just be honest and insert it in the experience section.
Another outside-the-box option would be to simply focus on methods of applying that don't require a resume.  For example, go to meetups and meet people from your target companies, and apply through a personal connection.  That way you'll probably still need to submit a resume, but it will be less important for getting you an interview.
What not to include on your resume
Now let's summarize what not to include.  It may vary based on the situation, but in general you shouldn't include any of the below:
Unrelated experiences that don't show why you're a good fit to the specific position you're applying to

A photo of yourself

Personal data like full address, marital status, age, gender

An Objective (add a "summary" or "profile" instead)

Old or irrelevant certifications

Your university GPA or SAT scores

Any information about your high school years or earlier
Conclusion
As I conclude this guide, I want to briefly go over the key parts and clear some things up.
First of all, tailor your resume to each position.  Yes it takes time, but this is the easiest way to get more interviews.  Every word on your resume should support your case that you deserve this position.
Next, remember to be as concise as possible and keep it simple.  Some hiring managers will only look at each resume for a few seconds, so you need to have a simple format that makesit easy to scan and quickly find important information.
Also, be mindful that some companies use an ATS to automatically scan resumes.  Make sure you use a simple PDF or .Docx document and use relevant keywords for your experiences.
Make sure your experience is concrete and achievement-based.  Use numbers wherever possible.  The more measurable the results you share are, the better.
You should also add relevant skills. Diversifying your skills in a balanced way can give your resume the extra edge that it needs as well.
A question I often get is, "is it OK to send an English resume to companies looking for multilingual applicants?". While the answer depends on the company, it should be fine if it's a modern, international company, or a tech startup, like the companies featured on the Japan Dev company list.
However, I still recommend having a Japanese version ready, just in case, along with a rirekisho. It's normal for Japanese companies to ask for both a short resume and a long-form CV, which is something you should be prepared for as well.
Also, I recommend mentioning your visa status in your summary section at the beginning of your resume. If you have questions regarding the process, you can take a look at my post on getting a visa as an engineer in Japan here.
Lastly, click here to download a simple resume template with all the elements we discussed in the article.  Feel free to use this as a base and customize it with your own experiences.
Good luck with your job search!
Latest Tech Jobs 🇯🇵
Explore the top developer jobs in Japan for foreigners
Search all jobs ➜
Get Job Alerts
Sign up for our newsletter to get hand-picked tech jobs in Japan – straight to your inbox.