Omiyage: Understanding Japan's Gift Giving Culture
Omiyage is a fun tradition of gift giving, but it's a bit more serious than you'd think.
There are many subtleties to the Japanese tradition of gift giving, and I wanted to talk about it in today's post. In addition to explaining what omiyage really is, I'll also tell you where to go shopping for the best omiyage.
What Is "Omiyage?"
The word "omiyage" can be translated as "souvenir," but it's not memorabilia you buy to remind you of your trip. It's more about presenting someone with a piece of the place you visited.
The origin of the word "omiyage" has an interesting significance. The word "miyage" refers to paper trinkets sold around sacred Shinto shrines. 
Back in the day, only a few people from small villages would get to visit these sacred Shinto shrines due to high travel expenses.
Village people would give these fortunate few money to pray in their names at the shrines. When the travelers returned, they would bring the villagers "miyage" as small gifts.
This has become customary over time, and the scope of the gifts extended beyond paper trinkets.
Omiyage's Meaning: More than a Gift
Nowadays, Omiyage mostly refers to edible gifts that you bring back from a trip to your close friends, family, and co-workers. 
Although the term originated from the word "miyage" as I explained above, there's also another meaning.
The word can be broken down into two parts in kanji (a Japanese writing system based on Chinese characters). These parts separately mean "local" and "product." These two words explain the concept very well indeed.
Omiyage are usually picked from local products or products specific to a certain town or region. That's why a keychain or a decorative magnet may not cut it if you're trying to follow tradition. 
When buying omiyage, you can't go wrong with neatly packaged edible local specialties, but a small household item, a decorative piece, or a piece of clothing will do as well. 
The Difference Between Souvenir and Omiyage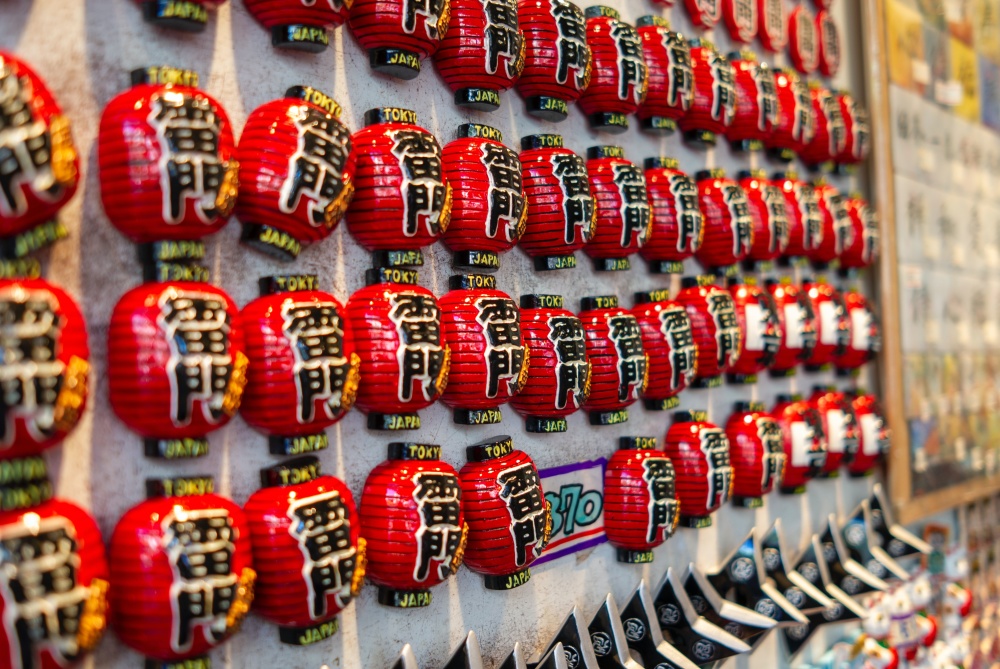 As I said, unlike a souvenir, omiyage are mostly edible gifts. While a souvenir is mostly an item for yourself or a close family member/friend to remind them of a place, an omiyage serves a different purpose.
In Japanese culture, it's customary to bring omiyage to your friends, family, or colleagues when you return from a trip.
Yes, you even have to bring omiyage to your colleagues at work! If you return empty-handed from a trip, they might take it personally. That's because an omiyage is almost a way to apologize for the journey you took.
It may sound weird, but the idea is simple. Your colleagues continued working while you were on vacation, and your friends and family didn't get to enjoy the places you've been. 
The least you can do is bring them a small local gift so that they can enjoy this experience as well.  It's out of respect, and it's actually a very thoughtful act. Doesn't sound too crazy now, does it?
Japanese Omiyage Markets: Where to Go
Now that the concept is clear let's move on to where you can get the best Omiyage in Japan. 
First, let's see the tips and tricks of finding the best places you can buy Omiyage, along with some common places to look for. Then, I'll go over some of the major cities and give some location-specific suggestions.
Where to Look for Omiyage
Since Omiyage is bought while traveling, you can always find something at an airport or a train station. You can easily find Omiyage around popular tourist spots as well. 
There are shops in Japan similar to dollar stores, called "hundred-yen stores." These are solid spots where you can find cheap and quick Omiyage. You'll find plenty of these in touristic areas, but you'll also find them scattered around town.
Keep in mind, however, that you'll find the most generic stuff in these places. If you want more unique gifts, you have to spend a bit more time and money.
Japanese department stores sell plenty of Omiyage too. If you want to look like you put more thought and care into your gift, these are the places to go. You're also likely to find better deals at these places.
Here are a few to look for in particular.
Muji
One of the cheapest places you can look for Omiyage is Muji. Muji is a Japanese brand with stores all over Japan, and they sell various goods, including household items, appliances and food, and even furniture.
It's a great place to look for deals as Muji offers the most variety with the most competitive prices. 
Loft
Loft is another Japanese store to look for Omiyage. Unlike Muji, it's not an international store but has many locations around Japan.
Loft carries a variety of items that are considered hip and trendy. Even though it's not as cheap as Muji, you'll still find great deals here.
Daiso
Daiso is one of those hundred-yen stores I mentioned. In fact, it's among the most popular ones. 
Here, you'll find the best variety of snacks, so, this is your go-to for all kinds of Japanese sweets and chips.
Pokémon Center
There are 14 Pokémon Centers across Japan, and five are in Tokyo. Pokémon is one of the most universally popular Japanese franchises ever, so you can't go wrong with this one, especially if you're buying Omiyage for kids.
Pokémon Centers usually have a variety of gifts to pick from, including themed snacks, toys, plushies, and clothing. Although it's not exactly cheap, they definitely have great gifts if you'll be taking gifts overseas.
Matsumoto Kiyoshi
Matsumoto Kiyoshi is one of the most popular supermarkets in Japan. It's more of a drugstore, but you can find various other items like snacks, skin products, and accessories. 
Since this is an easy-to-find location, it's great for last-minute shopping. You'll also find pretty good deals on nice Japanese skincare brands, which can be a nice Omiyage for close friends and family.
Best Places to Buy Omiyage in the Major Cities of Japan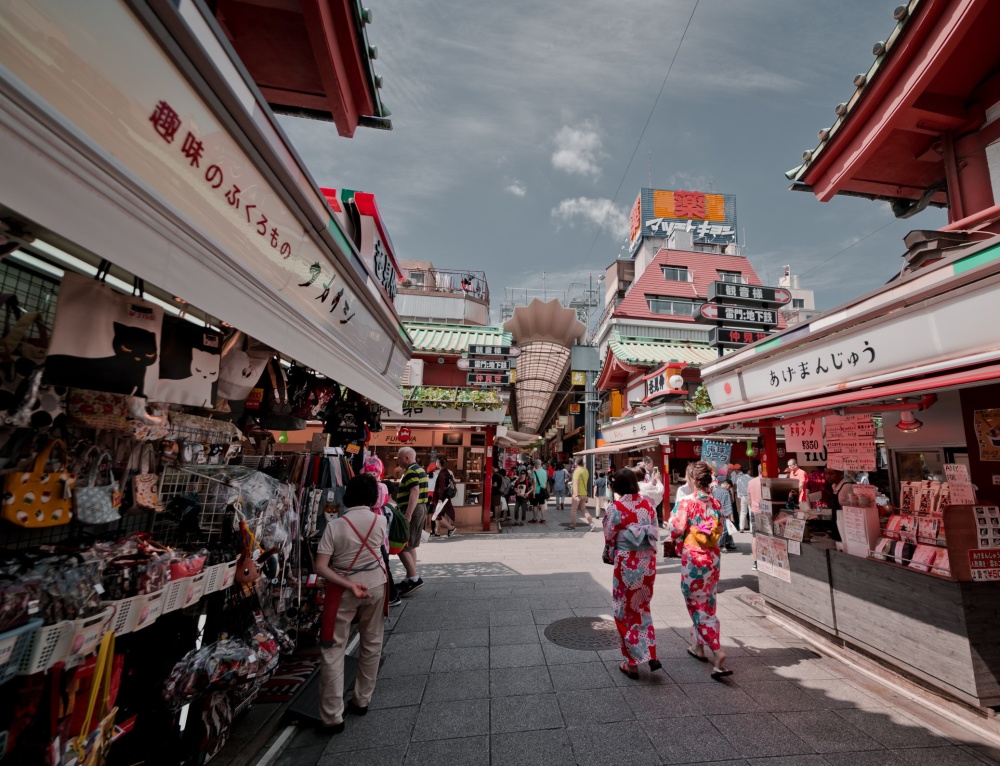 If you're in one of the bigger cities in Japan, I also have some suggestions for specific locations you can look for Omiyage. Let's start with the largest city in Japan, which is Tokyo.
If you want to learn more about Tokyo, I have another blog post where I describe all 12 neighborhoods of Tokyo.
Tokyo Omiyage Markets and Spots
Here are the best spots to find the best Omiyage in Tokyo
Osaka Omiyage Markets and Spots
Osaka is a port city, and it's also the commercial center of Japan. Here in this vibrant city, you'll find multiple huge shopping areas.
You can find out more about Osaka in my blog post, where I compared it to Tokyo in terms of ease of living, costs, entertainment, and cuisine.
Kyoto Omiyage Markets and Spots
Kyoto used to be the capital of Japan, and it's a beautiful place with many temples and shrines. You can also do some great Omiyage shopping here. Best spots include
Proper Omiyage Etiquette
Now that you know where and what to buy, let's go over some proper Omiyage etiquette. The Japanese culture may feel complicated, but knowing these few simple rules will help you.
Rule #1: Nothing Homemade, Please
It's considered rude to bring something homemade as Omiyage. The reason for this is simple. An omiyage is a local gift from your travels, whereas something you made at home has no special connection to the place you visited. 
Rule #2: Remember That Four is Bad
In Japanese culture, four is an unlucky number. This may sound odd, but the number four represents death in Japanese. It's because the words are very similar in pronunciation. Naturally, giving someone a gift that contains four of something is also considered unlucky. 
Rule #3 Wrap It Up Well
Bringing back your Omiyage unwrapped or in inadequate packaging is a cardinal sin. You're expected to put a lot of thought and care into your Omiyage because it represents how much you care for the recipient. 
Rule #4 Be Persistent
In Japan, it's tradition to reject a gift at first. The gift giver must insist until the person accepts the gift. This is one of the only times where insisting is almost compulsory. For Omiyage, you don't want to take "no" for an answer.
Rule #5 Say the Right Thing
According to Japanese culture, you must be humble when giving gifts. This means not discussing your gift and downplaying it if you do. It's not a good idea to create hype around the gift before giving it. You can say that you hope they'll like it, but anything more than that might put you in tricky territory.
Saying something like "dōzo osame kudasai" (どうぞお納め下さい), which means "I know it's not much, but I hope you accept this," is a great way to avoid awkward situations. If you want to learn more Japanese phrases for everyday situations, check out my recent blog post.
What to Buy as Omiyage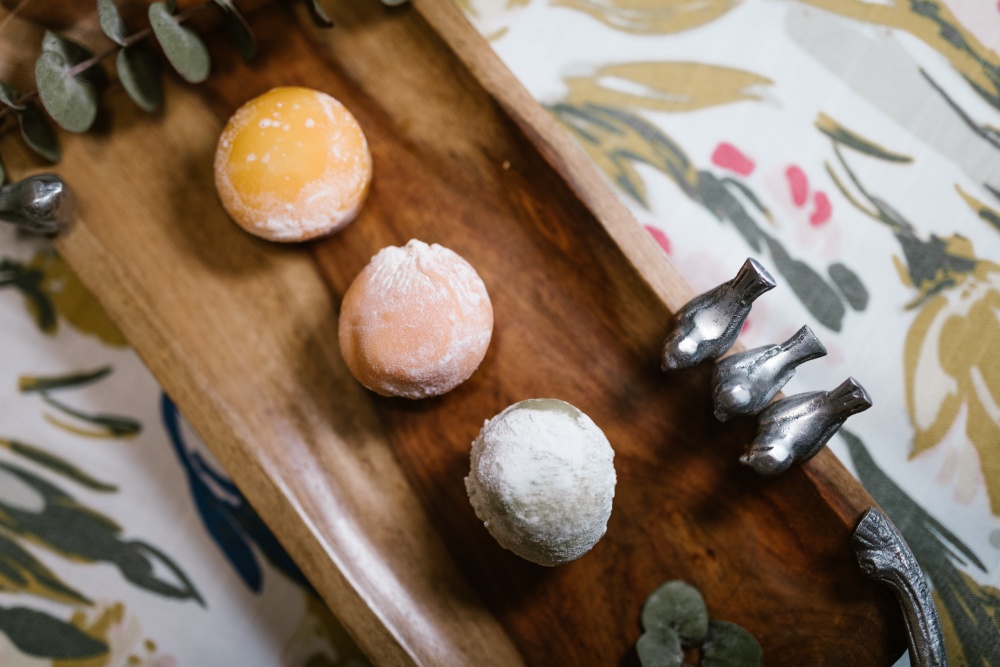 As I explained, Omiyage is often an edible food item. While most people prefer to buy local food, this is not your only option. Here are some of my edible and non-edible suggestions for the best Omiyage.
Omiyage or Temiyage: What You Need to Know
Finally, I'd like to mention another concept that is often confused with Omiyage. "Temiyage" is another Japanese tradition about gift giving, and it's easy to confuse the two as they are similar sounding words about gifts.
As I explained, we can only call a gift an Omiyage if it's bought while traveling and if it has geographical significance. You bring it back from your vacation to share with your loved ones.
Temiyage, on the other hand, still means a gift, but it's to show someone your gratitude for being a host. When you go to someone's house or an event they host, you bring a Temiyage. Like Omiyage, it's usually edible. 
A Temiyage, like Omiyage, should almost always be bought and not homemade unless the host is one of your closest friends. For example, bringing a nice wine to a dinner party is considered a Temiyage. 
There you have it. Next time you take a trip, keep an eye out for local delicacies and get some Omiyage for your friends and colleagues.
Latest Tech Jobs 🇯🇵
Explore the top developer jobs in Japan for foreigners
Search all jobs ➜
Get Job Alerts
Sign up for our newsletter to get hand-picked tech jobs in Japan – straight to your inbox.